Using Volunteers
---
Do you need extra hands… or extra minds, arms and legs too… to expand your meal program and feed more kids? Many NC school districts and community organizations have used well-trained volunteers to fill many jobs needed to make a program successful. The volunteers may be transporting meals, working at drive-through pick up sites, or working behind the scenes filling various roles. Many of the volunteer roles may be virtual due to the pandemic.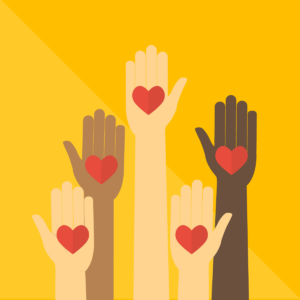 ---
The Benefits
Volunteers can expand the footprint of a meal service program.
Employees can experience fatigue and burnout after months of pandemic meal service, and volunteers can provide much-needed relief.
Local National Guard troops may be available to help – especially with heavy lifting of cases of milk and boxes of multiple meals that can be challenging, As NC DPI announced in the spring of 2020.
---
See It In Action
Here is a video on how the National Guard helped Bladen County Schools provide over 235,000 meals at https://www.facebook.com/NCNationalGuard/videos/2911429322244858
And another video shows how the Guard stepped in to help in Chapel Hill at https://www.facebook.com/watch/?v=2640788006245034
No Kid Hungry offers an extensive resource on general best practices for serving mobile meals.
The Boys and Girls Club of the Sandhills is offering virtual-only volunteer opportunities. Read more at https://sandhillsbgc.org/get-involved/
During the pandemic if volunteer opportunities are limited, there is always an opportunity to still help by getting the word out about the free meals. Here is how Chapel Hill-Carrboro City Schools recruits volunteers to help on an ever-changing dedicated webpage at https://www.foodforstudents.info/connect.
Durham Public Schools (DPS) teamed up the community organization Eat NC and to provide volunteers to drop off food at homes of students who do not have consistent access to meal pick up sites. https://abc11.com/durham-schools-eat-nc-meal-delivery-student-lunch/6414394/
Here is the form Eat NC uses to sign up volunteers to deliver meals for DPS: https://docs.google.com/forms/d/e/1FAIpQLSeMiFYV1gLAmwCoLkGBnFUohWDMEPvDkkQ3OylTIx3hQ2OXCA/viewform
---
Checklist: How to Get Started
Determine optimal roles that volunteers can help fill.
Work through your PTA or an online service such as SignUpGenius.com to recruit volunteers, listing specific jobs and times needed to fill.
Find scripts here for robocalls that a school district might use to invite parents to volunteer and even high school students looking for community service volunteer hours.
Partner with local organizations such as a food pantry that may have experienced volunteers who can help with your need.
Provide training for tasks and safety procedures.
Be sure to thank the volunteers for their help.
---
How Carolina Hunger Initiative Can Help
Let's get started! Contact us at carolinahungerinitiative@unc.edu