Using Food Service Operators as Vendors — Restaurants, Caterers & Suppliers
---
No matter the size or location of your school nutrition team, there are a lot of powerful potential allies in your area in the form of restaurants, caterers, suppliers, and other vendors. Especially under pandemic conditions that can worsen supply chain issues or labor shortages, connecting with new partners who are also in the food business can be a smart move. Whether these vendors are willing to go out of their way to support local schools, or whether they are interested in getting involved in the federally-reimbursed USDA child nutrition programs, the connection is usually a win-win for both parties involved.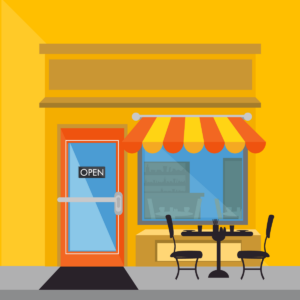 ---
The Benefits
Employees of school nutrition teams and community meal providers can experience fatigue and may need a break after months of pandemic meal service; caterers can provide much-needed relief and perhaps different menu options.
---
See It In Action
See profiles of restaurant partnerships with meals sponsors, created by Carolina Hunger Initiative, here.
In addition to the reimbursable meals Durham Public Schools (DPS) employees prepare and provide to children, many restaurants in Durham early in the pandemic also pitched in. Buying local ingredients and putting their employees to work, select restaurants partnered to help in making healthy meals for Durham children, and were reimbursed by federal school meals funding. In addition, DPS Foundation coordinated fresh produce and shelf-stable food for parents and family members. Learn more.
Johnston County Schools coordinated with the Food Bank of Central and Eastern NC to provide hot meals from the Golden Corral in Garner for a brief time during the pandemic. Learn more.
---
Checklist: How to Get Started
Make a list of restaurants and other vendors in your area that you think would be interested in working with you. Consider who has partnered with you for one-off opportunities in the past. Don't be afraid to bring in other administrators to brainstorm… connections are important!
The NC Department of Public Instruction's (NCDPI) School Nutrition Team has developed a series of introduction webinars and resources for vendors interested in partnering with school districts. Contact the NCDPI Nutrition Team to ask for these resources to share with potential partners.
---
How Can Carolina Hunger Initiative Help?
Let's get started! Contact us at carolinahungerinitiative@unc.edu