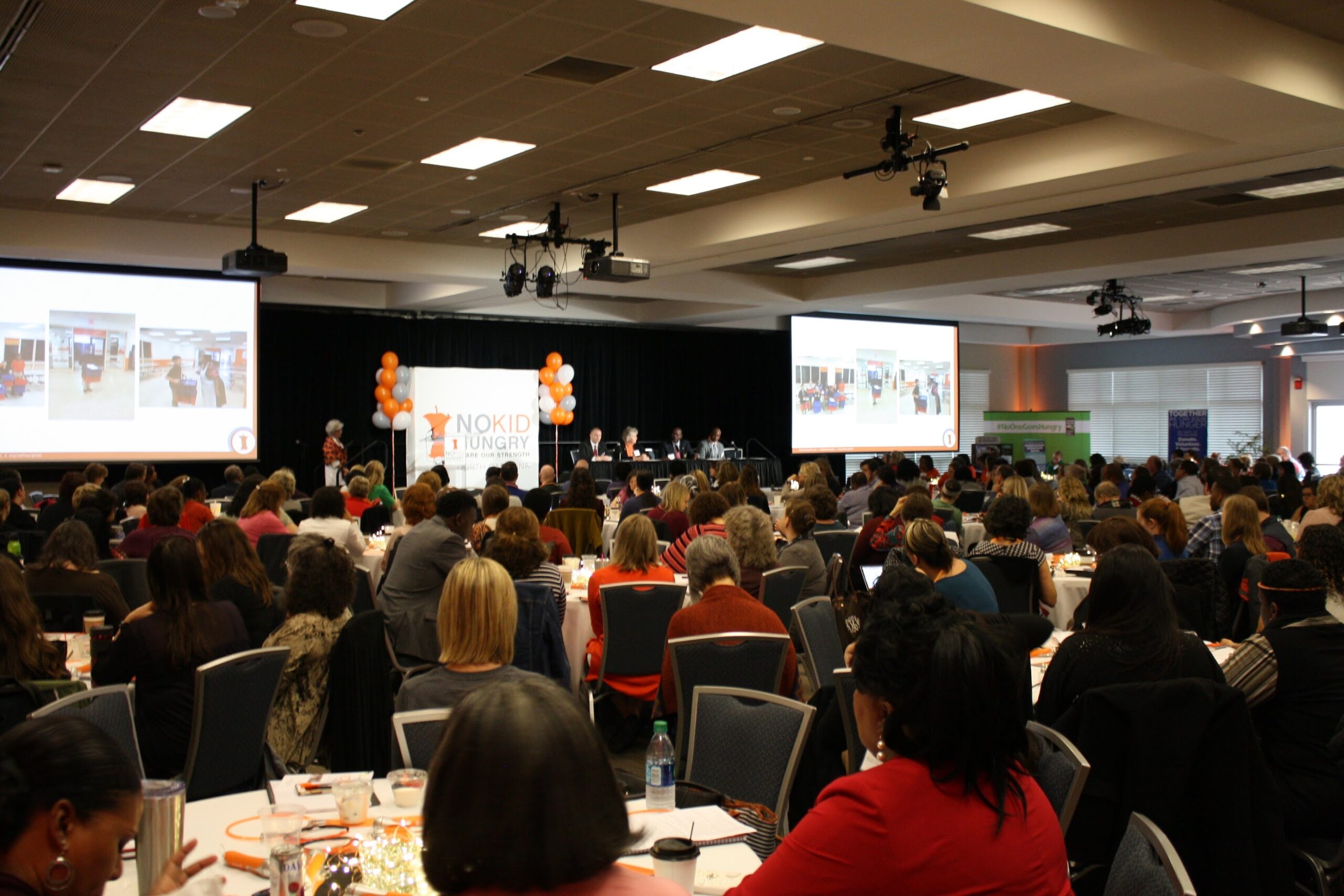 NC Child Hunger Leaders Conference
---
Registration is NOW OPEN for the 2023 NC Child Hunger Leaders Conference, which will take place on Wednesday, February 22, 2023 in Chapel Hill. We are excited to be returning to an in-person event for this year's conference!
THE DETAILS

2023 NC Child Hunger Leaders Conference

WHO?
Anyone interested in nutrition, fighting hunger, education, or making sure kids have access to healthy food is invited. Previous conference attendees have included everyone from nutrition professionals, to principals and teachers, to food banks, to faith-based organizations, to elected officials, to advocates and community leaders.

The conference is hosted by Carolina Hunger Initiative, a part of the UNC Center for Health Promotion and Disease Prevention. The conference was started by No Kid Hungry NC, which is a partnership between UNC and Share Our Strength supported by the same team as Carolina Hunger Initiative.

This year's event is sponsored by No Kid Hungry, the Food Bank of Central & Eastern NC, and the UNC Nutrition Research Institute.

WHAT?
The conference is a day of celebration and inspiration. Attendees will have a chance to connect with other child hunger leaders from across the state, learn about new strategies and success stories, and leave reenergized to continue the fight against child hunger.

This year's event features National School Nutrition Director of the Year Robert Rolfe (Henderson County), NC Teacher of the Year Leah Carper (Guilford County), a workshop on telling your Child Hunger Leader story, leaders of the new School All NC campaign, a performance from student group NC Arts in Action, and much more — see additional topics and speakers below.

WHEN?
Wednesday, February 22, 2023
8am to 4pm

WHERE?
The Friday Conference Center in Chapel Hill, NC

WHY?
All kids need healthy food to thrive. 1 in 6 children in North Carolina face hunger. More than 60% of public school students in North Carolina qualify for free or reduced-price school meals. (That's about 900,000 kids.) Increasing access to healthy food for kids has been linked to better academic performance and better social-emotional outcomes. Let's end child hunger in our state.

HOW?
To register, visit CarolinaHungerInitiative.org/Register.
THE AGENDA
THE THEME

This year's theme is "Game On! Winning the Child Hunger Challenge," inspired by classic TV game shows. So, get ready to "come on down" and test your knowledge, engage in some friendly competition, and remind yourself that a positive attitude is the best way to take on this serious work. By the end of the day, you will be ready to score a victory for the children in your community.
WHAT PEOPLE ARE SAYING

Here's what attendees at previous years of the conference had to say:

"It was one of the most exhilarating conferences I have attended."

"This was very beneficial to have administrators and teachers attend so that we can work hand in hand."

"The location was great, the involvement was great, and the food throughout the day was an added bonus."

"Wonderful networking opportunities."

"It felt very warm to know that we are part of a big cause, and this is something that we will pass to our kids and families."

"This is the best opportunity we have had all year for an extended session of sharing ideas, collaborations, and strategies."

"It's always encouraging and gives hope for our children."
PREVIOUS CONFERENCES

See videos, photos, agendas, and more from previous years of the NC Child Hunger Leaders Conference by visiting NoKidHungryNC.org/Conference.