More than 12,000 children living in rural areas of North Carolina are getting free meals shipped directly to their homes through the Emergency Meals-to-You (EMTY) program to fight child hunger during COVID-19 school closures and summer break.
The program provides weekday breakfasts and lunches to students who were receiving those meals through the National School Lunch Program at a free or reduced price, but temporarily cannot receive school meals due to emergency school closures. EMTY is mailing 10 breakfasts and 10 lunches every two weeks through August 15. The first boxes were delivered in mid-May. More than 1,140,000 meals have been delivered in North Carolina so far.

EMTY is a USDA demonstration project led by the Baylor Collaborative on Hunger and Poverty. Carolina Hunger Initiative led the effort to onboard school districts and collect applications from families in North Carolina to expedite the state's participation in this high-demand program. The NC Department of Public Instruction (NCDPI) partnered with Carolina Hunger Initiative to identify and approve eligible school districts.

Of the almost 1.5 million public school students in North Carolina, nearly 60% qualified for free or reduced-price school meals during Fall 2019. Many of these students depend on meals provided through school for some or most of their nutrition.

More than 36 million free meals have been provided for children ages 18 and younger since COVID-19 emergency school closures began in North Carolina on March 16, through the USDA Summer Nutrition Programs (SNP). This success is due to the tremendous innovation and hard work of school districts and community partners operating SNP and providing the meals to families at pick up sites and by school bus delivery. While the number of federally-supported meals served from these NC sites during COVID-19 school closures is impressive, it still is significantly less than the number of meals normally served in the spring while school is in session. EMTY helps fill some of the remaining need. SNP is continuing to operate throughout the summer.

"We've seen an incredible mobilization of school nutrition staff, community organizations, volunteers, restaurants, and others working to make sure kids have the nutrition they need during this emergency," said Lou Anne Crumpler, Director of Carolina Hunger Initiative. "The EMTY program will expand the number of families getting support even further. We want to use every method available to make sure kids do not go hungry."

In North Carolina, 20 school districts in 20 of North Carolina's 100 counties are participating in EMTY:
Anson County Schools
Beaufort County Schools
Bertie County Schools
Chatham County Schools
Cleveland County Schools
Dare County Schools
Granville County Public Schools
Lee County Schools
McDowell County Schools
Northampton County Schools
Pender County Schools
Person County Schools
Randolph County Schools
Richmond County Schools
Public Schools of Robeson County
Rutherford County Schools
Scotland County Schools
Transylvania County Schools
Vance County Schools
Washington County Schools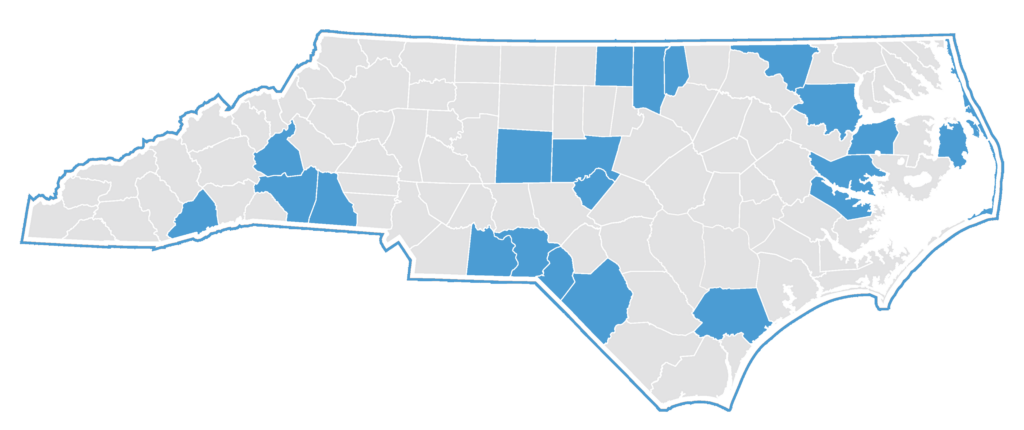 Eligible school districts must be designated as "rural" by the USDA and were instructed to target outreach about this program at households who remain unserved by other efforts to feed children during COVID-19 school closures. For many rural families, transportation issues can be a barrier to accessing free meals provided by schools and community partners through the Summer Nutrition Programs.

"You have no idea how much these boxes have helped my family," said one parent of a child receiving EMTY meals in Vance County. "My children and I truly look forward to what's in the box when we receive them."

Carolina Hunger Initiative is a new project of the UNC Center for Health Promotion and Disease Prevention (UNC HPDP) focused on improving access to healthy meals year-round for North Carolinians. Its early launch in March 2020 has focused on innovative approaches to support our state's food systems during the COVID-19 emergency. In addition to EMTY, Carolina Hunger Initiative is working with NCDPI on programs that connect restaurants, vendors, and suppliers with the school districts and community organizations providing meals for kids.

Carolina Hunger Initiative also collaborates closely with No Kid Hungry North Carolina (NKH NC), a partnership between Share Our Strength and UNC HPDP. The same UNC team works on both projects at UNC HPDP. NKH NC has worked to increase access to healthy meals for children during COVID-19 school closures by providing tools to find meals and issuing grants to school districts and community partners that are serving food to kids across the state.

NC families can locate where to find free meals for children through texting FOOD NC to 877-877. The text service is provided through Share Our Strength's No Kid Hungry campaign.