---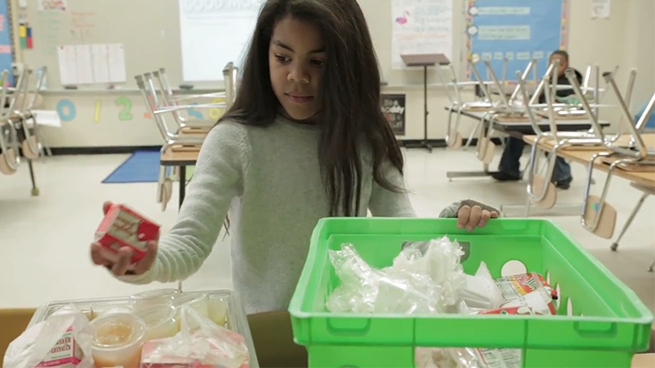 Blue Cross NC Child Hunger Impact Project
In Fall 2022, the Carolina Hunger Initiative is managing another round of grants for school nutrition programs, supported by Blue Cross and Blue Shield of North Carolina. These grants will focus on "big ideas" to increase meal participation in Community Eligibility Provision (CEP) schools.
This builds on a previous, three-year funding partnership with Blue Cross NC awarded grants statewide to schools and community organizations that provide critical meals for kids who need them.
The first year of the grant focused on separate breakfast, after school, and summer month programs. Subsequent years have focused on emergency funding to support school nutrition programs in general during COVID-19 school closures and the return to in-person learning. In total, 52 school districts and community organizations received funding. The most recent grants were awarded at the end of 2021, for work being done through the end of school year 2021-22.
The NC Alliance for Health and Share Our Strength have coordinated separate years of the grant process with the UNC Center for Health Promotion and Disease Prevention.

Impacts include:
School districts have funded new equipment to help deliver meals directly to children participating in remote learning during COVID-19 school closures.
Other districts have funded equipment and staffing to keep meal sites open during holidays, or add summer meal sites, that would otherwise not have been possible.
Dozens of schools around the state have begun innovative breakfast in the classroom and grab and go morning meals sometimes served through second period.
At-risk afterschool meal programs and summer programs are using funding for enrichment activities, facilities and supplies, and staffing to help increase participation and sustain programs.
See the original press release about the collaboration with Blue Cross NC.
---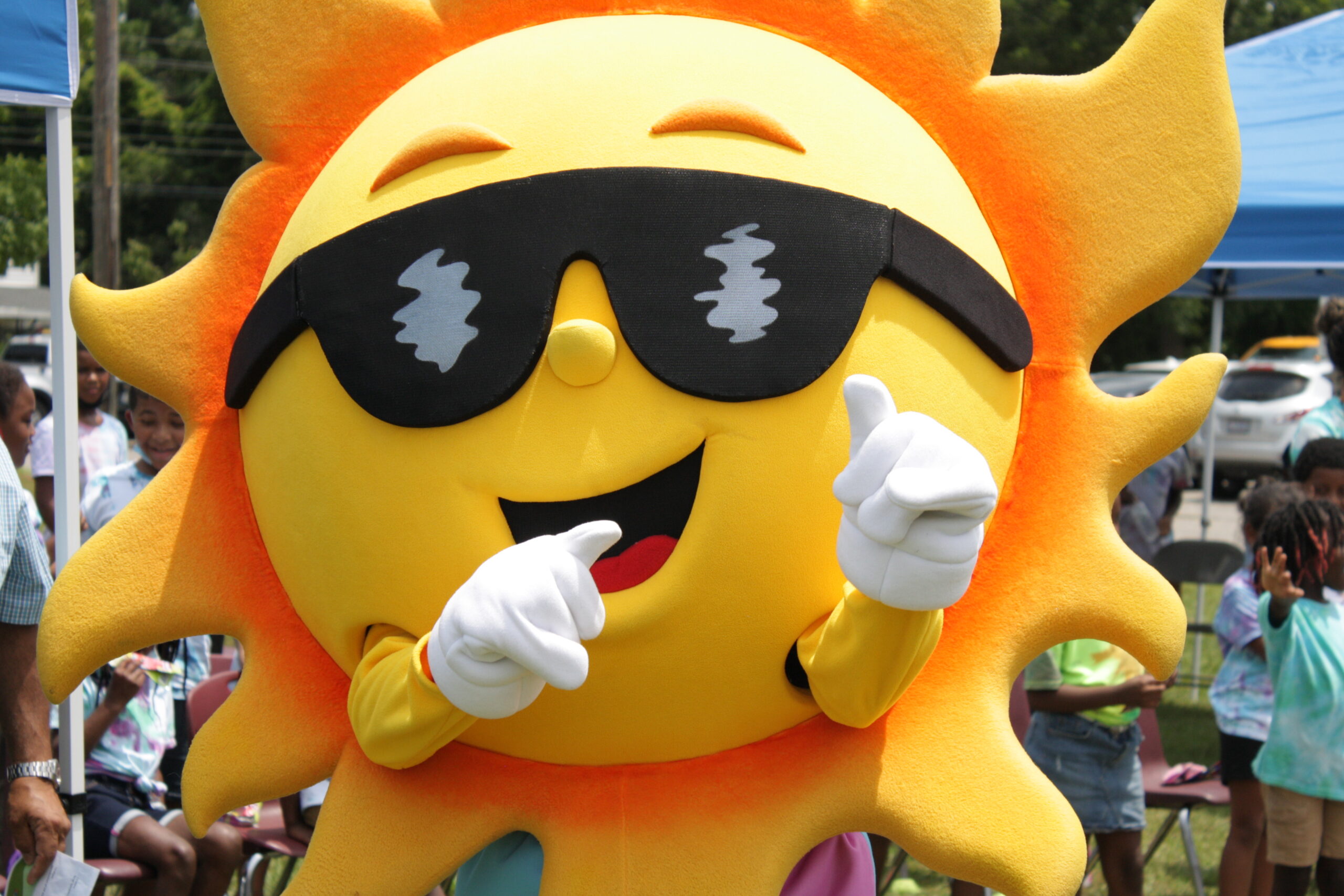 Many kids rely on school meals for their nutrition. So, when school lets out for the summer, schools, churches, community organizations, state agencies, and others team up to provide thousands of meal sites across the state where kids can eat for free. Working to expand participation in the Summer Nutrition Programs has been a long-term project for the Carolina Hunger Initiative (CHI) team members, which includes developing yearly profiles showing participation rates by county.
In summer 2022, CHI partnered with the NC Department of Public Instruction's (DPI) School Nutrition Services team for the second year of the "SummerMeals4NCKids" project. CHI supported the summer nutrition programs in rural counties by:
Hosting events at meal sites for kids with local stakeholders and summer meals mascot Ray .
Creating a customizable outreach toolkit.
Providing $1,000 "gift grants" in the form of equipment for serving meals.
Building a new online home for the NC Summer Nutrition Programs, SummerMeals4NCKids.org.
The 2022 project also expanded on the previous year's work by creating an internship program that embedded college students in four rural school districts to help operate their summer nutrition programs. Read more about the summer interns' experiences.
Learn more about the NC Summer Nutrition Programs at SummerMeals4NCKids.org.
---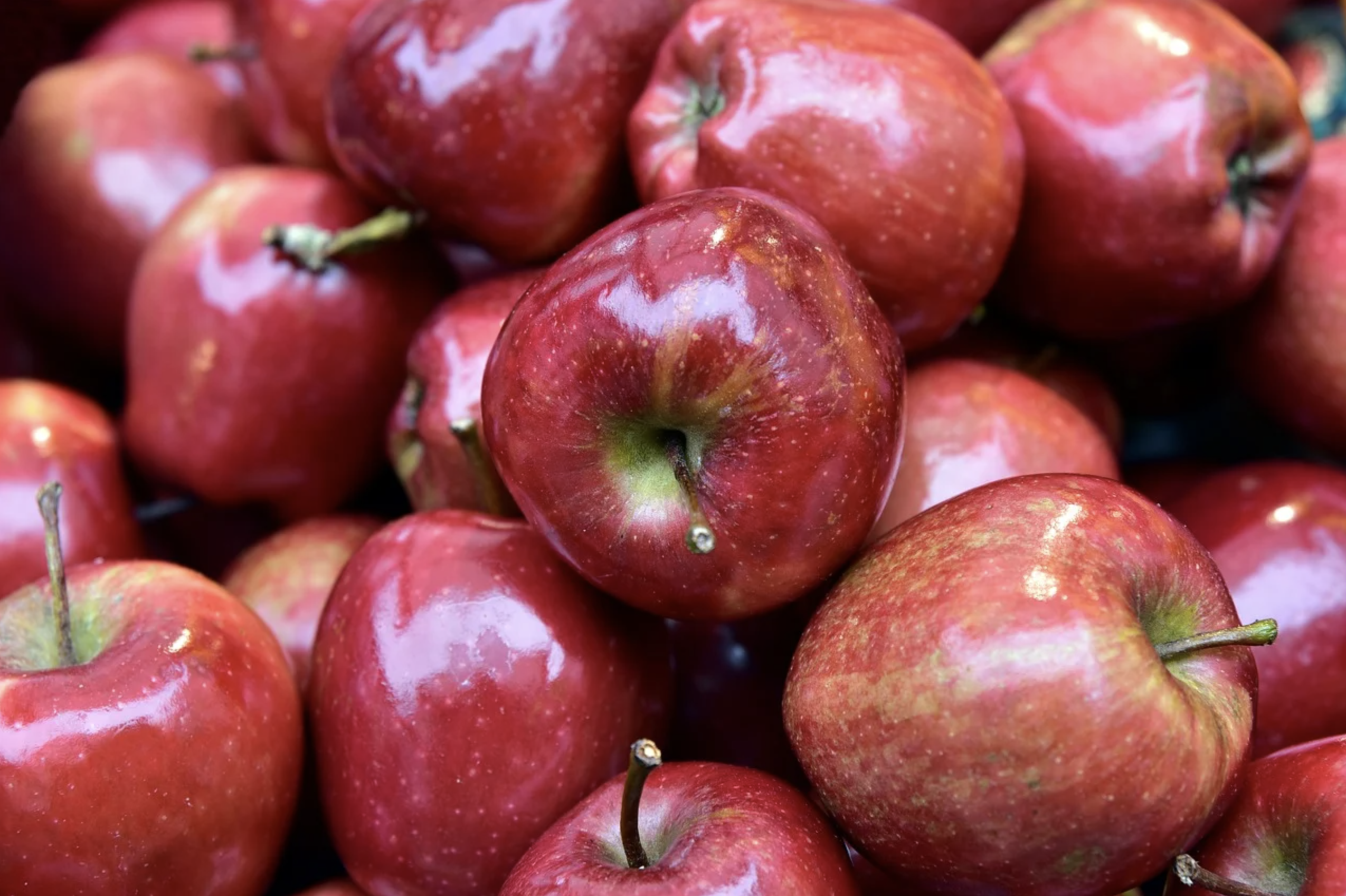 Nutrition Education helps children and families learn to make healthy food choices. Our USDA-supported SNAP-Ed child nutrition project engages up to 30 college students per semester working with school-age children who need meals at school to teach Cooking Matters classes to the children. In addition to providing ongoing Cooking Matters classes — which are also held online as Cooking Matters at Home — Carolina Hunger Initiative has a robust collection of original nutrition education resources for educators, families, and nutrition professionals.
Explore CHI's growing collection of nutrition education resources.
---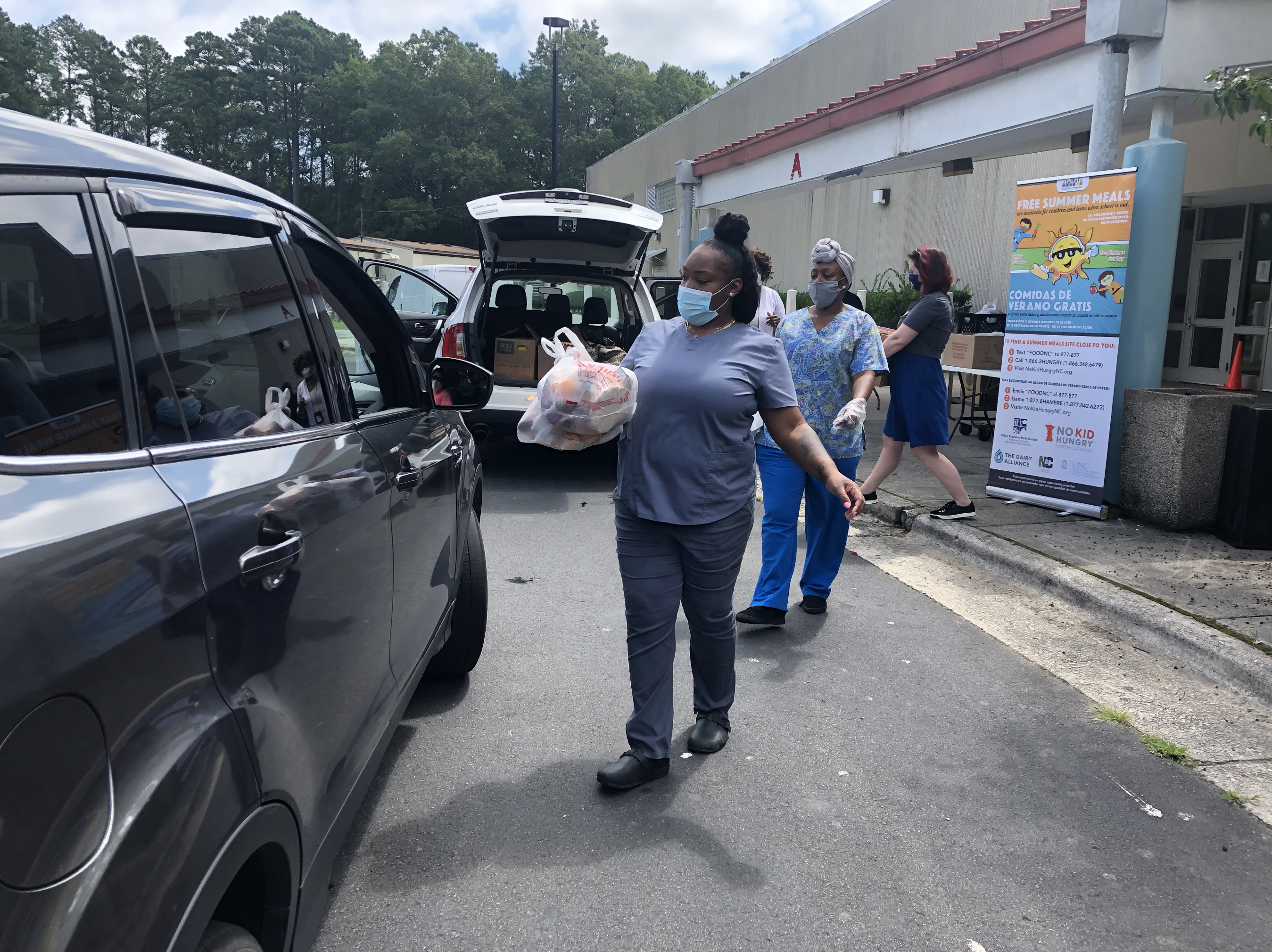 Early in the COVID-19 pandemic, our team began working with the NC Department of Public Instruction (DPI) to support school districts and other meal providers in the many challenges of safely continuing meal service for NC public school students, especially those who rely on school meals.
Within 24 hours, our team launched a webpage to provide resources for food service organizations on the front lines and to inform families in need where free, healthy meals would be available for teens and children through the federally assisted programs. Among our other actions to support the emergency response while schools were closed, we posted regular updates to a map of meal locations and a county-by-county list of extensive web content from the meal providers, and widely promoted use of a meal locator text service hosted by No Kid Hungry, a campaign of Share Our Strength. See Governor Roy Cooper's press release about our tools for finding meals for kids during the COVID-19 emergency.
Our other COVID-19 response has included:
---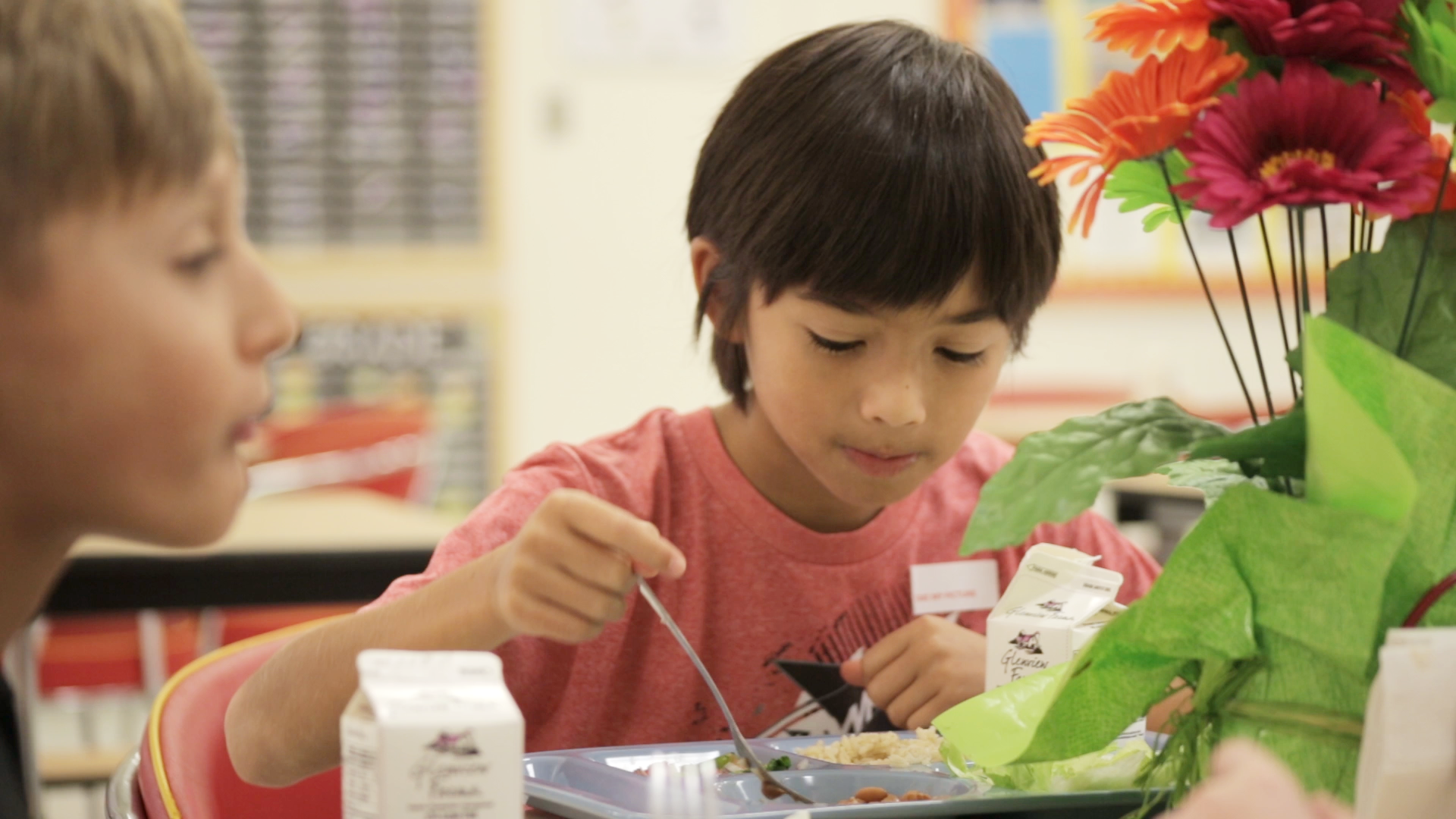 Child Nutrition Team at UNC HPDP
Almost one million children in North Carolina are at risk of hunger. This number includes almost 900,000 (60%) of our 1.5 million K-12 public school students who are eligible for free and reduced-price school meals – along with at least 100,000 younger siblings not yet in school. Working with school districts and community partners across the state, our goal is to increase access to healthy food options served through the underutilized federally assisted nutrition programs for kids.
POLICY, SYSTEMS, AND ENVIRONMENTAL CHANGE: An important focus of our SNAP-Ed child nutrition project is to create more opportunities to provide healthy meal choices for children in economically disadvantaged areas. We use this lens to advance changes in policies and food systems that increase access to USDA child nutrition programs. This access issue is most challenging in rural areas which means most of North Carolina.
EXPANDED ACCESS: Our team seeks to break down the barriers to children in need getting healthy meals year-round. We advocate for innovative ways to provide school breakfast and lunch, afterschool meals and summer meals to more children, more consistently across the state.
Learn more about our child nutrition work.
---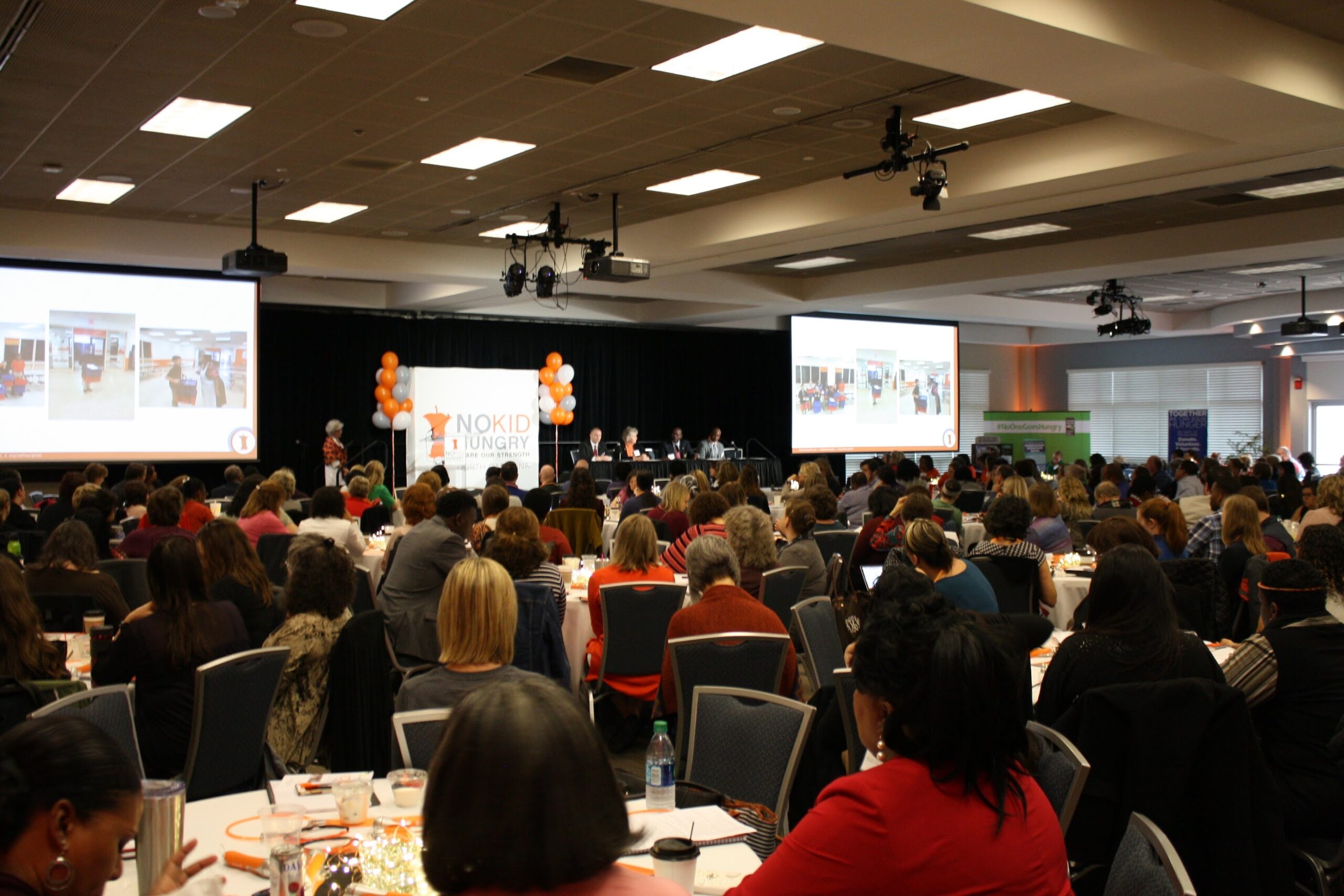 NC Child Hunger Leaders Conference
The NC Child Hunger Leaders Conference is an annual day of celebration and inspiration for everyone in our state interested in making sure kids have access to healthy food. The event celebrated its 10th year in 2021. The conference is now hosted by the Carolina Hunger Initiative, after being started and hosted for many years by No Kid Hungry NC, which is a partnership between UNC and Share Our Strength supported by the same team as Carolina Hunger Initiative.
Learn more about the upcoming conference, and find videos and materials from previous events.
---